Fun-Friends-Food and the Thing About Ageing
It's a party for our friend Diane Kennedy's mother Blanche Brouillard who is celebrating her 97th Birthday today.  Blanche is a remarkable women and a inspiration. She is a wonderful example of why a good attitude leads to a long life and along with Ashton's Aunt Betts and the late great Marion Belford are among my role models for what I want to be when I get into my 90ies and 100s.
There is a thing about aging well that I have have noticed and it doesn't have to do with looks. It has more to do with attitude, curiosity, understanding that everything is not all about you and a sense of humor.  Bitterness makes you old before your time.  Rolling with the punches as they say keeps you on your toes and keeps you aware. Curiosity keeps you learning, exploring, growing and not getting stuck in a time or place. Knowing it's not all about you keeps things in perspective and develops empathy. A sense of humor ..well you can't get from point A to point B on this planet without one. Plus you need to be able to laugh at yourself. Taking oneself too seriously will put lines in your face.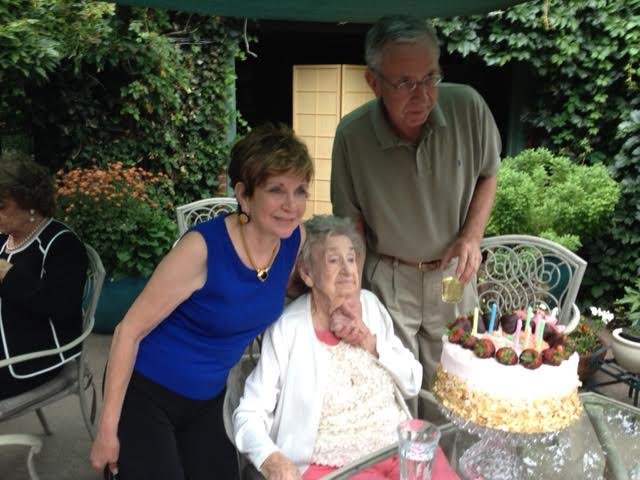 It was a wonderful celebration in honor of a very special lady.  We should all live long and prosper and have the days of our lives remembered in such a loving way.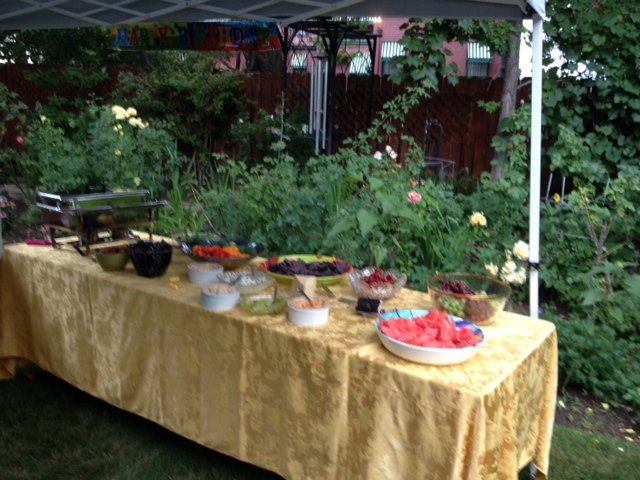 Now as for the food. Diane is a great chef, Gregg is a fabulous host and the table is always resplendent with excellent culinary delights. We are all foodies. It was a summer picnic buffet. Craw daddies, meat balls in perfect tomato sauce, corn on the cob, potato salad, several dips of the humus variety, guacamole, watermelon, blueberries, strawberries (these were incredible) blue corn chips, cheese, crackers, a vegetable plate and let us not forget the cake, a whipped cream strawberries dipped in chocolate delight and of course the wine.
The company. Everyone really special from Dr. Bob, Mercedes and Isabelle who is an exceptional child. At 10 she is smarter then most people at 40. The Captain and Ms Coco (aka Nancy E.) and many others all very special people making it a very special evening.
Now my beloved and I are home. There is a soft rain falling. We are drinking Golden Eye Pinot 2011 Anderson Valley for our night cap.
Life is a piece of cake at least for me and mine.
In the mean time. The war rages on in Gaza. 
A do nothing congress does nothing
And Harvey may not have to go to jail.  I think that would be a serious waste of time and money given the Citizen United decision by the SCOTUS.