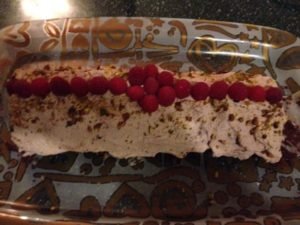 The Buche de Noel became a Christmas tradition when we moved to Nevada in 1976. It was our first Christmas. There was just the four of us. No tree. Nothing particularity festive. But we did have a gas fireplace at the apartment we were living in on Skyline Blvd. I picked up a few bottles of Robert Mondavi Cab. a hunk of English Stilton. a nice piece of  tenderloin for Beef Wellington and we set about creating our idea of an English Christmas with a French accent.
The Buche is a flourless cake that is actually easy to make but the ingredients require a lot of beating. I didn't have a stand mixer so the next best thing is to have a stand-in mixer person. Both my sons, Ari and Kevin took turns beating the egg whites and egg yolks, for the chocolate sponge and helped with whipping the cream, but most of all licking the bowls.
After the chocolate sponge came out of the oven per instructions I covered it with a clean dish towel that was wet in very cold water and well wrung out. Once properly cooled I removed the dish towel, covered it with 2 overlapping sheets of waxed paper and flipped it on to the counter. I carefully peeled of the waxed paper from the baking process and spread on the whipping cream filling.  Then rolled it lengthwise with the wax paper to form a long log and placed it on the serving plater. The Buche then went into the frig while we whipped up the chocolate coffee cream for the frosting.  We decorated it with snipped holly leafs and berries from a holly bush that grew near our apartment door.
After dinner that Christmas  we were invited by the parents of one of Ari's friends who had a home on Skyline not far from where we lived for drinks, coffee and desert. We brought the Buche to be part of the dessert table.  Our host was a pilot for Pam Am and most of the people there were also with the airline. Several were from Germany. They wanted to know what European Bakery I got the Buche at because as one guest said. "it certainly isn't like the over sweet goop you get here". Needless to say I felt very good about the way our dessert offering was received.
Since then the Buche has gotten a bit more elaborate. Filled and decorated with raspberries or cherries and dusted with ground pistachios. Once I did not have any good instant espresso coffee so I replaced it with Kahlúa and have made it that way ever since. The original recipe also called for dusting the sponge with powdered sugar before filling. I have never bothered with that, but by all means do it if you like.
The basic recipe came from Gourmet's Cookbook Volume 2 I believe or maybe Volume 1. Books I was introduced to by my friend Joni Golden who was a fabulous cook. Our friendship began when our oldest sons were born hours apart and she was my roommate at Rush Presbyterian St. Luke's in Chicago . She ask me "Do you put nutmeg in your spaghetti sauce"? Many of my best recipes started out in those books and as a matter of fact yes, I always put a dash or so of nutmeg in my spaghetti sauce.
I still do not have a stand mixer, but lucky me I have a stand-in mixer person. Each year since the Christmas of 1980 my Ever Love'n husband Ashton has taken over the duty of doing all of the mixing and since the boys are grown men on their own paths he gets to lick the bowl all by himself.  This cake is always on the table at Christmas at our home or taken to friends for Christmas dinner. It is also always on the table for Ashton's Birthday on December 30.
I do not bother with meringue mushrooms that often decorate this type of cake. But by all means have at it if your heart so desires. I also do not bother with cutting off a piece and sticking it back at an angle as is often seen in other recipes for Buche. But again.. Feel free if you are so inclined.
Please note: you do need a good sheet pan, the best semisweet chocolate, I like Ghirardelli and you will need brandy, my preference is Korbel's  and coffee liquor, my choice is Kahlúa. But if you can't get or do not want any of that you can substitute the coffee liqueur with very strong coffee and just skip the brandy.  The cake can be made the day before serving. You do need good refrigerator space to store the cake.  Since we do not have an extra refrigerator and it is always quite cold in Reno at Christmas, I use the trunk of my car.
Buche de Noel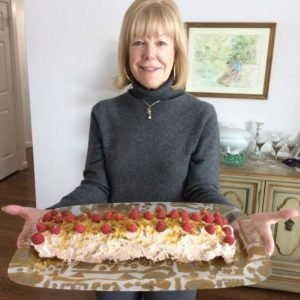 For the Cake
9 eggs separated
3/4 cup sugar
9 oz semisweet chocolate
4 tbs coffee liqueur
For the Filling
2 cups whipped cream
sugar to taste
raspberries or other fruit
1 tbs Brandy
For the Frosting
1 cup whipped cream
1 tbs cocoa powder dark
1 tbs coffee liqueur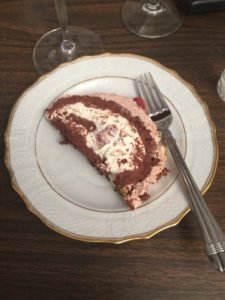 sugar to taste
1. Preheat oven to 350.F. Oil a jelly roll pan, line with wax paper and oil again. In a medium bowl beat 9 egg whites with 1/4 c. of sugar until stiff but not dry. In a large bowl, using the same beaters, beat 9 egg yolks with 1/2 c. sugar until thick. (They should form a ribbon when the beaters are lifted). Melt 9 oz. of dark semi-sweet or sweet chocolate with 4 tblsp. of coffee liquor or strong coffee. Stir into beaten egg yolks and finally fold in egg whites. Spread batter evenly in pan and bake for 20 min. (The cake is done when it has pulled slightly away from the side of the pan and the center springs back when lightly press. You have to be careful to not burn the edges.) Remove from oven and cover the cake with a damp towel and cool. Loosen the cake from the pan. and if you wish dust the surface with powdered sugar.
Take two sheets of waxed paper and overlap them on top of the pan then grabbing the pan with the wax paper in place turn the cake over onto the over lapping sheets of wax paper. Carefully peel off the wax paper from the bottom of the cake. Spread 2 c. of beaten whipped cream, sweetened to taste over the cake. Line the whipped cream with fresh raspberries (or sweet cherries, strawberries or peaches are nice too. Or what ever tickles your fancy.) and then roll the cake lengthwise into a long roll, by lifting the wax paper.
Now if you want to make a traditional Buche, frost the cake with a mocha butter cream frosting and meringue mushrooms. Or do what I do. Beat 1 cup of heavy whipping cream with 1 tablesp. of dark cocoa, 1 tblsp. coffee liquor and sugar to taste. Spread over roll making rough marks to resemble bark and decorate with raspberries or cherries and  sprinkle chopped pistachios on the the log.
You can forgo the frosting, dust with powdered sugar and serve slices of the cake on raspberry puree and swirl chocolate sauce around the edge, with a garnish of fresh mint leaf. Since it has no flower it is a wonderful roll to serve this way for Passover. You could hide a small candy Easter egg in the cake at Easter and decorate it for Easter by using orange liquor in place of the Kahlúa.  Just let your imagination take flight. The basic recipe lends it self to many variations.
Servings: 15
Yield: 15
Oven Temperature: 350°F
Cooking Times
Preparation Time: 20 minutes
Cooking Time: 20 minutes
Total Time: 60 minutes
Serving size: 1/15 of a recipe (2.7 ounces).