Ten Thousand + People Marched In Reno, NV 1/21/2017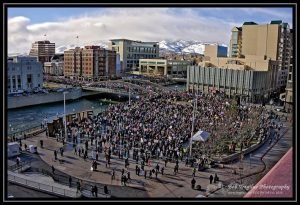 It started the way a loaf of bread rises.You put the ingredients together, you proof the yeast, you knead the dough and then you let it rest and rise. And rise it did.
This is how you do a March and a Rally.
Pick the date or join in another event Statewide, National..Worldwide.
 Convene the team. We did ours by phone message FB message and email. We held one peace keepers meeting and two general March organization meeting.

If you are not a non-profit organization you will need one. It helps to have a 501 (c) 3  that understands how to be pro-active. We had PLAN (Progressive Leadership Alliance of Nevada) as our fiduciary and activist mentors.

Our March was a 1st Amendment event. If you are Marching for your 1st Amendment Rights that is what you have to tell your city. "We are holding a PEACEFULL 1st Amendment Event".. In Reno you do not need a permit to gather for 1st Amendment issues, but because we knew we would be Marching down public streets that would need to be barricaded we got a permit from the City. The permit covered the March and our right to use the City Plaza for a Rally. Be sure you state what time you will be holding your event start to finish.  We did not need to pay for our permit from the City*. However depending on how your City views your venue there may be costs involved.

Most municipalities have forms that let you know the information they need. Most are available on line or can be emailed to you.

We also needed a permit from the GSA (General Service Administration)  because we were gathering at the Federal Court House. Contact your local GSA and they will send you by email or post or you can pick the forms up. Again there was no charge.
Organizing Resistance on the internet I am sure is much easier then it was in 1776. We primarily used Facebook to get the word out, but also had information that could be emailed to those who do not use Facebook, Twitter or other social media and urged our friends to call their friends who are still shy of computers.
We got some pre-March media coverage and we figured at most we would get 3,500 to 4,500 people. That would be amazing. We are a small town in a small population State. Getting that amount of people who just said they would come on Facebook would have been beyond expectations.
The weather leading up to the March was terrible; snow, icy rain and there was some fear that many would not show up if the weather was really bad.  What seemed almost miraculous was on the day of the March we had a window between storms, it was very cold but clear.
I went down to City Plaza where the rally would be held to meet with the people who were setting up the stage. The City had set up barricades along our parade route that went from the Federal Building down to the Plaza. All was in order.
By the time I walked back to the Federal Court House a large crowd had already gathered. The peacekeepers and chanters were doing their job of organizing and keeping people engaged. Despite the bitter cold the mood was up-lifting. I had forgotten to bring gloves. A pair of pink glove mittens was given to me by a lovely lady. I will be forever grateful to her.
We had a sign making party before the March. People not only made signs for themselves but made extras to bring to the march for those who did not have one.  The signage was impressive.
As more and more people arrived the front of the march had to move forward. It got so dense that the front was barely a block and a half away from the marches finish before it even started.
At one point my phone rang. A women who owns the Wedding Chapel across from the County Court House was concerned the March would interfere with a wedding she was holding.  She wanted to know how long the street would be blocked and if the barricade could be moved.
There was one of Reno's finest on his motorcycle in front of me. I asked the officer if he could help. He said he would check with the officer near the Wedding Chapel and let her know.  Before he took off he said 'I've never seen anything like this in Reno, ever'. I said "It's quite a turn out. maybe 5,000". "Oh no". he replied. "We have estimated at least 10,000 and more keep coming".  I never heard back from the lady at the Wedding Chapel, so I imagine the dilemma of getting the limo for the wedding through was solved.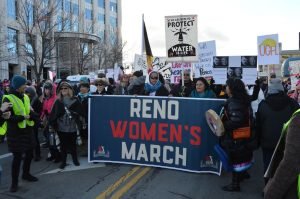 Our indigenous nations led us with drums and chanting.  We shouted loud and clear. "Show me what Democracy looks like" and roared back "This is what Democracy looks like" and "Love Not Hate, makes America Great" among Women's March Chants and joyously marched the short distance to the City Center where Voices Forward sang us in.
The crowd was all around the Place. People were looking down from the City Parking garage. It was awesome! Young families with babies in strollers, front packs and snuggles. Children sitting on their fathers shoulders. Young women and men. The Calvary had arrived. It just wasn't the gray beards involved in this March.
The program at City Plaza was inspiring. You can read about all the details of how we put the march together here.  Thanks to the Progressive Leadership Alliance Nevada whose team did the training for the chanters and peace keepers and who acted as the march's fiduciary, everything went off with out a hitch. I can not tell you how much I love the planning crew.  All did yeoman work, especial Bridget, Tanya, Jackie, and Bob Fulkerson, to just name a few.
The Reno March received great press coverage. here are just a few of the articles written about it.
Activists plan Reno march Saturday in support of Women's March on Washington – January 19, 2017 http://www.usatoday.com/story/news/…
A march is just an event. A protest only last so long. Some said well this is much ado about nothing. Forks on the hard core right even proclaimed "Everyone of those libertards will crawl back under their rocks in less then a week". That didn't happen. Out of this March has come a energized progressive movement that is becoming a force in our community and across our state.  People are getting connected to what they can do in our community thanks to Jackie's What Can I Do events.
New organization that include Indivisible, ACT, Organize for Action, For Nevada Future, Mass Unite, have spring up not in competition with but in concert to expand the base laid down by Working Families, ACTIONN, PLAN, PDA and the Democratic Party.
These are some of the highlights of what has happened so far.
Personally for me Nevada finally passing the Equal Rights Amendment was a major victory.