We had been planing this road trip for months and the day finally arrived. A beautiful clear September morning with just a hint of autumn in the air.
Captain Jack our hybrid Honda Accord's trunk was packed to the max. The small trunk maybe the only drawback of this car. But you can't knock the mileage. Our route was along 395 N to 31 then on to Bend. We had not taken this route before and I must say it is a fine way to go. The road less traveled through small farming communities that dot the high desert of eastern California and Oregon is mainly free of traffic affording beautiful vistas and mostly stress free driving..
We decided to pass up stopping in Alturas where 395 turns north and went on to Lakeview Oregon where we stopped for lunch at Jerry's . Jerry's is a chain restaurant,  most of which were converted into Denny's.  This one is showing a good deal of wear but the staff was friendly and the short order cook, Maria, turned out an expertly rolled veggie omelet and decent pancakes eggs, bacon and sausage. The coffee wasn't bad either. The menu also offered a fine assortment of Mexican beer and along with the usual condiments and a great variety of hot sauces.
I found the window painting very interesting and wondered if this place was one of the stops for those going to or returning from Burning Man.
The town of Lakeview looks much like so many farm communities and if we were not eager to move on would be worth spending time to explore.
Note at least this time of year there is no water in the lake at Lakeview or in any of the lakes we passed on our route to Oregon.
Refreshed we headed on to Bend and to the Pine Ridge Inn where we had stayed last year when we went on to the Columbia River Gorge.
We really enjoy staying at this property, especially in a room with a balcony overlooking the river.
The rooms are spacious and nicely appointed and the staff friendly and accommodating. That turned out to be a big plus on this trip as a strange occurrence happened.
We decided to have dinner at the Cascade Lodge Brew Pub across the road from the Inn.  The beer was fine, the food ok and our waitperson was interesting. He had a goodly amount of tattoos visible on his arms but the one that caught my attention was a very large eye of Horus. If you believe in such things the eyes of Horus is supposed to protect you and keep you healthy. Probably a good thing to have when working around rowdy crowds. All in all it was a very pleasant experience.
Tip: It's a good idea to have a flash light with you because the way is around a round about and the lighting isn't all that great great.  Fortunately Ashton always thinks about these things and we had several with us including a very spiffy small red one with a very good light in my purse.
About the strange occurrence. Of course I was dreaming. I heard a noise and got out of bed. There was a note pinned to the inside of our door in a scratchy handwriting. The note read to the effect that we were making to much noise and what were we doing in that room. I took the note off the door and tossed it in the waste basket and went back to bed wondering how someone got in the room while we were sleeping. Suddenly I was wakened again and this time when I got out of bed I saw man standing by the door.  He was perhaps in his late 60's, gray hair, stocky, wearing tan pants and a blue and white checked shirt. He insisted we were in his and his wife's room and we needed to get out. I called out to Ashton to wake up and help get this person out of our room. Ashton woke me up. A  very strange dream indeed.
Or was it a dream. Could I have been out of my body confronting a ghost?
The next morning we had a light breakfast that is provided by the Pine Ridge Inn and packed up our bags and went on our way. Now it is my habit to check everything before I leave a room. I checked the closet, bathroom and all surfaces to be sure we didn't leave anything behind. Ashton had also checked the closet. We were sure we had all of our belongings.  Oh but did we?
Our next stop was Port Angles, WA and the Olympia Lodge. Our route took us along US 97 to US 26 on to I5 north and then on to US 101. All of these road are beautiful but the truck traffic can make it white knuckle driving as much of the road is 2 lane.
We stopped in Sandy, OR for lunch at the Sandy Family Restaurant, where they serve breakfast all day.  The trip from Bend had been pretty stressful so it was good to take a break.  Ashton had an omelet stuffed with bacon and cheese and all sorts of goodies along with hash browns that were nice and crisp on the outside. I settled on just scrambled eggs and sliced tomatoes. Nothing special but no complaints.  Our waitperson was a pleasant lady that kept the coffee coming and we had a comfy booth with a view of  the beautiful flower plantings that are arranged up an down the street.
Missed opportunities was taking pictures of those beautiful flowers and the amazing views of the ocean along 101 on the way to Port Angles. If we ever pass that way again there are so many places to explore and we will stop at Hama Hama Farm Store and Oyster Saloon.
The Olympic Lodge is conveniently located along the main route into Port Angeles and an easy drive to the center of Port Angeles and the Black Ball Ferry.
Our room faced the golf course and had easy access to the back door and to our car.
There is a mini mall with a Jimmy Johns sandwich shop next door and Joshua's Restaurant and Lounge on the opposite side.
Our desk clerk gave us some dining suggestions and really wasn't enthused about Joshua's but we didn't feel like driving anymore so we thought we'd risk it.  We have had worse.
It doesn't matter where you eat in Port Angeles, everything seafood is going to be fried.  We both opted for oysters, the serving size was generous and they were not bad. They make their own pies and we took a piece of peach pie back to our room and heated it up in the micro wave.  A very sweet way to end a long day.
Bright and early the next morning Ashton asked "Did you see the garment bag"?  "Didn't you bring it in from the car yesterday"? I asked. That garment bag was no where in sight. Not in the room not in the car. How did we miss it? We both checked the room at the Pine Ridge Inn.  But somehow we must have left it behind.
I called the Pine Ridge and the front desk said nothing had been turned in by staff but she would check and call me back if they found it. Sure enough 10 minutes later we got the call saying they had located it in their lost in found, but no one knew who had put it there since the maids always report found items to the front desk. Was it that ghost? Thankfully they Fed Ex'd it back to Reno.
We went back to Joshua's for breakfast and decided to go into Port Angles to try and find some shirts for Ashton since all of his shirts were in the missing garment bag.
Our reservation on the Black Ball from Port Angles to Victoria, B.C. was for 12:45 with a check in 1 hour earlier.  We got there 2 hours early and that turned out to be a wise thing since it afforded us the opportunity to both board and depart the MV Coho early and breeze through Canadian Customs.
Believe it or not there wasn't a single store in the shopping center that had so much as a t-shirt for sale.
There was some interesting art and jewelry and we had time for a decent Bloody Mary at Smuggler's Landing.
There is not much in the way of decent food on the ferries these days so it's best to eat before taking off.
The crossing was uneventful. The water as calm as could be and we sailed through Customs and were on our way in no time at all to the Oak Bay Beach Hotel. We stayed at the original about 28 years ago and this new incarnation is dazzling. My only regret is that we didn't book 2 nights.  The hotel is a short drive from the ferry dock to the town of Oak Bay that is one of the most charming communities on Vancouver Island, B.C.
When we arrived our room was not quite ready so we decided since we had not had lunch to go into the Snug Pub for a bite.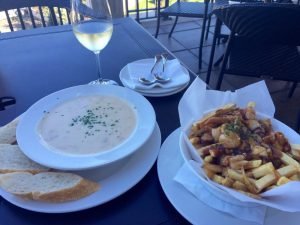 The Pubs design and interior is reminiscent of the old hotel and English Pubs with white walls and wood trim a long beautiful bar and a warm clubby feeling. Since the day was sparkling we decided to dine on the terrace overlooking the gardens and the sea.
We shared an order of excellent poutine and a wonderful seafood chowder along with a glass of local Chardonnay and beer that was recommended by our server. Let me say that the B.C. wine industry has come a long way and it goes without saying that the Canadians know how to brew good beer. Instead of texting us that our room was ready desk staff came to our table with our keys and information about the hotel. The service is impeccable.
The rooms are spacious and tastefully furnished. There is a small refrigerator and micro wave as well as dishes, glassware and silver. The bathroom is fabulous with a deep soak tub and separate shower. There is a fire place. There are plenty of plugs for all your electronic devises. The wifi is included.  In short all the comforts of a home away from home.
After getting settled in our room we drove into the Village of Oak Bay in search of shirts and found ourselves in the middle of a Street Fair.  There are many interesting shops to explore and some nice dining options but believe it or not there wasn't a single mens store in the town.  Nor were  any of the Fair Vendors selling mens T-Shirts. One kind lady at a dress shop I popped into told me that the last men's store had relocated to downtown Victoria over 3 years ago.
We were really to tried and not all that hungry to go out to dinner. Instead we snacked on some fine cheese and Italian salami and a fine bottle of wine we brought with us for the trip. Just as a note you can bring in 2 bottles of wine per person into Canada with out a problem. I took an absolutely decadent bath in the soak tub and a shower for good measure.
Next morning after an excellent nights sleep we went down to The Dinning Room for an equally excellent breakfast.
I could live at the Oak Bay Beach.  I'm already planning our next stay.
Tofino and the Wickaninnish Inn was are next destination.  The drive takes you along Hwy 19 to Nanaimo where we stopped and grabbed a bite to eat for the road at a Tim Horton's, Canada's answer to a Dunk'n Donuts, Einstein Bagel, Sandwich shop and Starbucks all in one and found a Thrift Shop to fill in Ashton's missing wardrobe. Did I happen to mention that everyone in this part of the world is extraordinarily helpful, nice and kind? Then it was on to Hwy 4 across the center of Vancouver Island. It is a spectacular drive. Cathedral Grove is a major attraction. It was packed with cars so we decided not to stop.  There are plenty of other opportunities along the route to take in the magnificent old growth forest that is still left.
The Wickaninnish Inn is a high end luxury lodge considered one of the finest in the world. Our room was spacious with a cozy gas fire place and a spectacular view of Chesterman Beach. A long with the bathrobes you are thoughtfully provided with rain jackets, rain pants, umbrellas and binoculars. They get bout 203 days of rainfall on average rain in Tofino.
Surfing is the big thing in this part of B.C. and it doesn't matter if it is raining, snowing or the sun is out the surfers are waiting for the waves.
We planned on dinner in town at the Wolf in the Fog. The restaurant has 2 stories and was pretty well full when we arrived. We were seated in the ground floor bar that is dominated by large TV screens running surfer films.  It's a fun place with decent food and friendly servers.  Pretty much par for the course. Everyone in Canada is nice.
We arrived in sunshine but the next day we had rain. We went to the Pointe Restaurant for breakfast to check it out as we also had dinner reservations there that evening.  Let me say that the food at both the Pointe and the Driftwood Cafe is excellent. In fact the tasting menu dinner complete with wine at the Pointe was the best we have ever had.
Thanks to the valet service Ashton's one nice shirt was also ready in time for dinner. Again the staff and the service here is impeccable.
We took the opportunity to just spend the day relaxing by the fire, watching the surfers and sip champagne.  It was a perfect day topped off by that sumptuous 6 course meal. And because this trip was part of my Birthday celebration I received lovely happy birthday notes from the staff and this at the end of our meal. It came with several pieces of marvelous chocolate truffle bites. But we ate them before i could snap the picture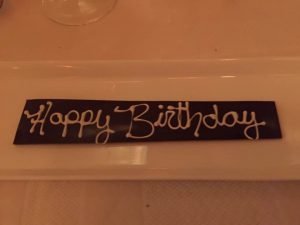 How can you not love a place like this that see to every detail?
The next day the sky was still over cast. But the air was sweet and we took some time to check out the art work and sculpture that graces the property.
We also went to the Driftwood Cafe for another delicious breakfast. Our server told us they had to take out a window to get this piece of driftwood that makes up the bar installed.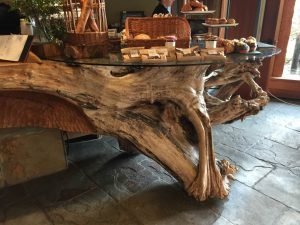 All to soon it was time to go off for our next adventure.
On our our way to Mills Bay to catch the ferry to Brentwood Bay we stopped at the Turtle Beach Cafe in Port Alberni. The hamburgers are hand made, the coffee is decent and the artwork and signs are a kick.
The Bentwood Bay Resort and Spa provides comfortable accommodations and is almost adjacent to the ferry. The view is lovey, the restaurant has more then decent food and the staff is top drawer.  Three major reason for us staying here. One. Butchart Gardens,, Two: Sidney. And three.. It would be a delightful place to live.
As we drove around the area we spotted a number of places where you could purchase fresh eggs and other locally raised farm products. The eat local slow food movement is alive and well and living on Vancouver Island.
Butchart Gardens is one of the must see attractions just outside Victoria and close to Brentwood Bay. We visited the Gardens on a Sunday. Perhaps not the best day to go as the place was really crowded and some of the visitors were a little rude as they angle for the best way to take a picture.
There are several dining options but if you want lunch, tea or dinner at The Dining Room it is wise to make a reservation.  We shared the Saanich Organics field greens Toasted almonds, compressed apple, and Farmstead feta salad that was the best I have had in a long time. I had the Crispy boneless Cowichan Valley chicken thighs Farro tabbouleh, cucumber yogurt Pickled beet and carrot slaw and Ashton had the Wild salmon and spring pea turnover and Fingerling potato crisps along with a carafe of Pinot. We also shared the best Tiramisu with Salted caramel mousse and espresso anglaise and had an excellent cup of coffee. Food among the flowers is always very special and all in all it was a very fine lunch.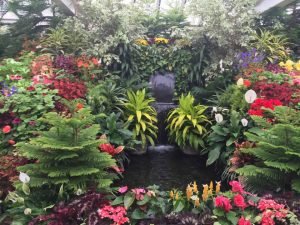 Oddly Do not wear anything that may look like a costume because they will not let you in.  as was discovered by Gabriel Capen Chrisman and Sarah A. Chrisman. Next year they will be banning selfie sticks.
There is so much beauty to take in here. Is it worth it. Yes..but it is pricy and the fact of the matter is there are free or far less costly garden venues you can visit.
Sidney is just down the road so to speak from Brentwood Bay and a favorite of ours.  Lots of development has taken place since our last visit but the Beacon Landing Bar and Grill was still serving up fine fare.
As you can see my fried oysters were giant sized and i can attest they were delicious.
We have talked about spending more time in Sidney and did a little looking around to see what type of long term rentals might be  available.   It was apparent that we would most likely need a realtor to help with that as we didn't see a single sign for rent or for that matter even for sale.
Ashton suggested that we return to the states by taking the Sidney Ferry to Anacondas that would take us through the San Juan Islands.  The ferry leaves at noon and it is a must to make reservations as well as arriving there early.  Since we made the reservations at the last minute we were lucky that a spot was open.
Don't expect to find any decent food on the ferry. It is best to have an early breakfast if you are planning on returning State side from Sidney. The ferry terminal has a shop that does offer some better food options as well as the usual kitsch.
The ferry made a stop at Friday Harbor and I made a mental note to plan a trip that allows us time to spend a day on the island.
We arrived in Anacondas late afternoon very hungry and immediately went in search for a place to eat.  We found a gem of a spot at the 5th Street Bistro  located in the Majestic Inn and Spa.
Lucky for us the dining room opens early and though we were the only ones there we had a wonderful three course meal very reasonably priced with a fine bottle of Washington State wine and very good service.
The one big mistake we made on this trip was not staying over night in Anacondas. Instead we push on to Portland.  I-5 is always crowded and is especially so between Seattle and Portland. Driving at night with the heavy truck traffic can be a challenge.
I had made reservations at the Best Western at the Meadows  and I'm sorry to say it was not a good choice. Next time we will plan to stay over night in Anacondas and drive to Salem.
Best Western does offer free breakfast that frankly can be skipped and free wifi. But both those can be found at other properties for a comparable price.
On the last leg of our journey back home we stopped for lunch at White Horse Coffee & Tea, in Sutherlin, OR. We found this place by happenstance.  The cafe  is filled with tchotchkes, meme posters cover the walls and cases and a concrete seahorse dragon leads you around the drive thru. Plus you can buy lots of gegaws, coffee tea, t-Shirts etc. and probably for the right price even the place.
The owner is an interesting gentleman that likes to share his history. He fixed us decent double shot lattes and we split a BLT on very good rye bread and a side salad.  It is always a treat to find places like this on the road less traveled.
Our last stop was at the Del Rio Vineyards and Winery  They make a wide variety of reds and whites including a nice rose'.  Of course we had to get a case. The place is low key, the staff is friendly and it was fun meeting a fellow Yelper who also was there that day sampling all the good juice being poured.  A trip to Oregon's Wine Country is a must do.
Then it was home again..home again.