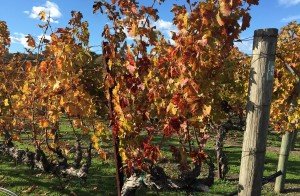 November 23 to November 30 2015: It has been our custom for the past 6 or so years to go to Napa and stay at the Silverado Country Club for the Thanksgiving Holiday. This time of year in the Napa Valley and in neighboring Sonoma wine country the landscape is a blaze of gold, reds, rust, and varying shades of green against if you are lucky a cloudless brilliant blue sky. Even if the weather is overcast the place is enchanting.
If you are traveling from the Reno area, as we do, we take a different road getting off I80 at 113 and taking it to Winters on 128. Winters, CA is a good place to stop. The ARCO station has the cheapest gas and the restrooms are relatively clean.
The town of Winters is also worth exploring. There are some decent places to eat. We have often stopped at the Putah Creek Cafe and Bakery for breakfast or lunch. A few years ago on a Thanksgiving trips to Napa we encountered one of those epic snow storms that can hit the Sierra's and what is usually a 3 1/2 – 4 hour drive at most took close to 7 hours. We decided we needed a time out and had dinner at Buckhorn Grill almost directly across the street from the Cafe. Winters has some interesting shops and bars and on the road in and out of town a few roadside fruit and vegetable stands that if you are lucky will be open.
Route 128 goes up and over a part of the Coastal Range, the Vaca Mountains complete with magnificent turns, twists and vistas that take you by Lake Berryessa  the largest lake in Napa County,  The road divides on the left to 121 to Napa and to the right goes on as 128 to Rutherford. Both roads are equally breath taking especially if you are not used to hairpin turns and sudden drop offs that can be challenging to drive.
On this trip after a brief stop for gas we continued on to check in to our home away from home.  First item on our agenda was lunch at Hog Island Oyster Bar located in the Oxbow Public Market.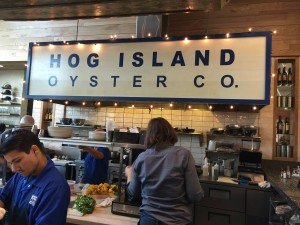 Oxbow is worth a visit. If so inclined you can spend a small inheritance on all the goodies and dining options the Market has to offer. We like dining at the bar at Hog Island. The bar seems to invite conversation between travelers and locals as well as staff and we have never had a bad meal there. If  you visit and they have Uni Baked Oysters do not pass those up.
Thirty six oysters later, that included 2 dozen Hog Island Sweet, 8 Uni and 4 Pesto, plus their wonderful green salad and a decent bottle of Chardonnay we were well fortified.
Our next objective was getting a few provisions to fill in on the supplies we brought with us and not wanting to spend our inheritance we headed down the road.  
Trancas Street is a main shopping street in Napa where you will find just about everything you need that you forgot to bring for your stay.  We stopped at the excellent T.J.'s off of Trancas at California to get crumpets, marmalade, Irish butter, organic eggs, and wine for the evening because we do not bring wine with us. That would be like bringing coal to Newcastle. Being the Monday before Thanksgiving the crowds were daunting and finding a parking place was a challenge.  One driver, one shopper and two cell phones are essentials at times like these.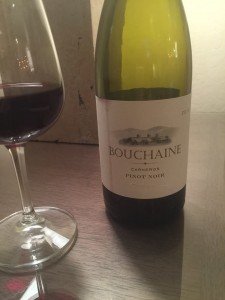 I picked out a bottle of what looked like very decent pinot but the sommelier at T.J's suggested for the same price, less then $15.00, the Bouchaine pinot would be a better choice. I have learned that the good people at T.J.'s know of what they speak when it comes to the products they carry. I have no idea what the other wine I picked would have tasted like..but this one was a winner.  On our next trip we will have to visit this winery.
A few things to know about wine tasting in most areas of California. Once wine tastings were free but now the vast majority of wineries change for their tastings.  Most require you to make an appointment and most will wave the tasting fee if  you buy wine. Plus most will also give you a discount if you buy wine by the half or full case and many wines are only available at the winery. Our recommendation: Make reservations and buy wine and if you really love the wine join the club.
Tuesday, November 24, 2015: Our first Winery visit was Duckhorn.  The wines of Duckhorn cover the best of the Northern California Wine Country.  They produce everything from Sauvignon Blanc to Petit Verdot.  The grounds are beautiful and our tasting was very special complete with the Winery Watch Cat.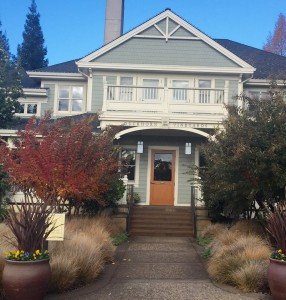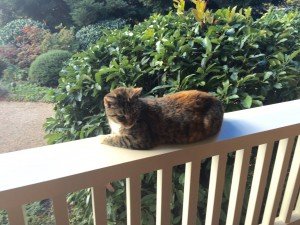 They say the cat just showed up one day a few years ago and now she has become the official greeter.
The amount of wine choices can be overwhelming.. But if you are not sure and are a member of the Club you can taste everything.  The history of the winery is also worth learning about.  There is a real Mr. Duckhorn who is largely responsible for cultivating Merlot in Napa. Duckhorn was sold to G.I. Partners in 2007. The sale fortunately has not diminish the quality of the wine or the excellence of the tasting experience.
Duckhorn wines are not inexpensive. There are many worth your while to put away for a special occasions. What I like about Duckhorn is that as members of the wine club we get free shipping on a case and a 20% discount making some pretty high end wine a little more accessible.
Napa isn't just about beautiful scenery or wonderful wines. It has some of California's if not the nations best restaurants. Yountville perhaps best know for Thomas Keller's French Laundry is home to one of our very favorite, Bistro Jeanty.  Here you will find the most marvelous tomato soup presentation that I have ever had and Ashton who insists he doesn't like tomato soup always get the tomato soup at Bistro Jaunty.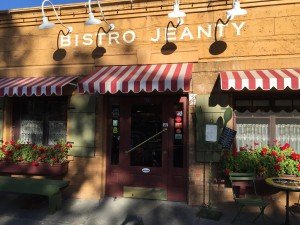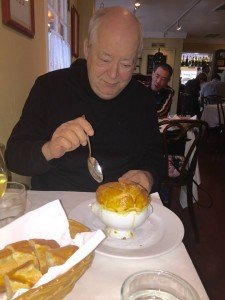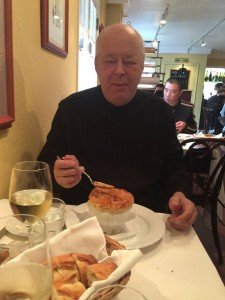 The best mussels I have had in ages. And of course you need wine because you also have the most excellent sole.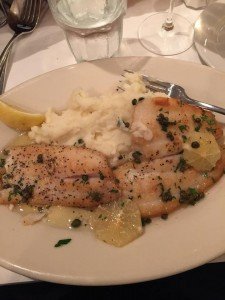 This  was just the perfect balance for the sole and the mussels.  I have Ballentine's down for our next visit, but as I noted the Chenin Blanc isn't even among their offerings at their Winery.  That leads to many mystery's. Do they use a blender and juicers and is this only a retail or restaurant offering? Are they putting this out to see how it might go over? So many questions.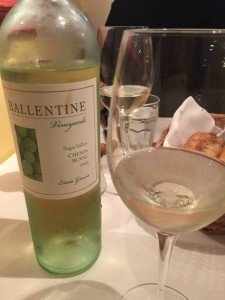 Chenin Blanc could be a difficult sell but this is a nobel grape to explore.
We go to Napa to discover new wines and visit old friends. Wine is a living ever changing life-form that like the caterpiller to butterfly goes though a metamorphosis. You cellar some for a reason because that wine will grow younger as it grows old. Losing harsh tannins, mellowing out, becoming a mouthful of joy.  Or you drink it early because it is a light, lovely flavor filled mouthful whose moment will vanish all to soon.
Wednesday, November 25, 2015:   Thanks to our friends at Wine Watch and Thaddeus Buggs   we revisit Frank Family Winery and went to Charles Krug (the oldest winery in the valley) for the first time.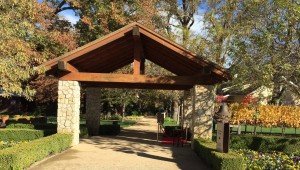 Frank Family Winery is a must stop when visiting Napa. The grounds are beautiful and the tasting rooms warm and welcoming in a beautiful restored Craftsman House.
Chances are you will be greeted by Bristol the Estate Chocolate Lab who is likely to follow you everywhere if you scratch him in just the right place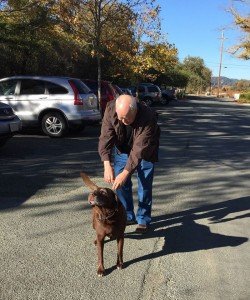 It would be worth your while to do the Premium Tasting as it includes their sparkling wine. One of my favorites is the Rouge, made from 95% pinot noir and 5% chardonnay, that as far as I know, can only be purchased at the winery.
The history of the winery and the Frank Family is also interesting.  In honor of Rich Frank's father's 99th Birthday the winery produced the Patriarch, again, sold only at the winery and in the private tasting room their is a picture of Rich sitting on his father's lap when Rich was a very young child.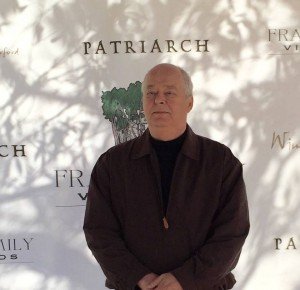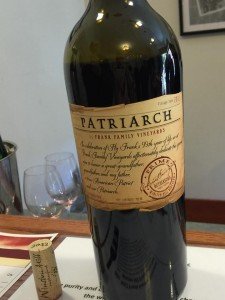 We left Frank Family with a mixed case and three bottles of the sparkling Rouge and went to another of our favorite dining spots,  Brix for lunch.  We always have a great meal and a wonderful experience at this restaurant and this trip was no exception.  Another couple was seated next to us and as is likely to happen when you travel and dine conversations between tables will arise.  It turned out the lady was a sister of a long time acquaintance of ours and so we had many stories to share.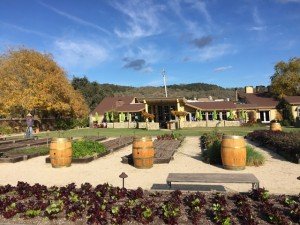 After lunch we headed off to Charles Krug  the oldest established winery in Napa. Though we have passed the winery many, many times this was our first visit and one we will now have on our favorite list.  Owned and operated by the Peter Mondavi Family since 1943 the winery produces lovely whites and reds many at affordable prices. We enjoyed our tasting experience here so much that we joined the club and left with two cases of the wine, one mixed white and one mixed red.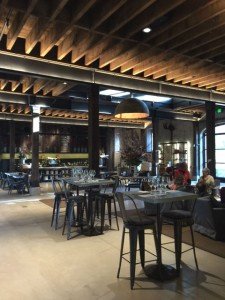 Thursday, November 26, 2015: Thanksgiving at Silverado is always a treat. The property is decked out in Holiday Finery and the Thanksgiving Buffet a beautiful delicious display to behold.  The best part for me is there is no shopping, no prep, no clean up and no "What are we really going to do with the rest of this turkey and stuff"? to deal with.
In 2012  we met a couple, Terri and Tim Kline, at other of those conversations between tables at the Silverado Brewing Company  (alas now gone). As fate would have it Terri and Tim were also having Thanksgiving Dinner the year we met them at the Silverado and so we became friends.
Sadly Terri passed away last year and when we knew we would be back in Napa for Thanksgiving this year, we asked Tim to join us for the Holiday. It was very special catching up with Tim and celebrating with him.
Thanksgiving evening at the Silverado started with hot chocolate, cookies and caroling.  We made our way back to our home away from home, enjoyed a cozy fire, a bottle of excellent Krug,  looked at the stars and drifted off on very full tummies while vision of tomorrows adventures glided though our dreams.
Friday, November 27, 2015: The House of Duckhorn is home to five very excellent labels among them Paraduxx the house of Duckhorn's primo blended wines.  Having gotten many of them as part of our  Duckhorn wine club perks we decided we really should pay them a visit.  Paraduxx is a treat. Casual, warm and welcoming and a place to learn about the art of blended wines.  As you can see we tasted everything.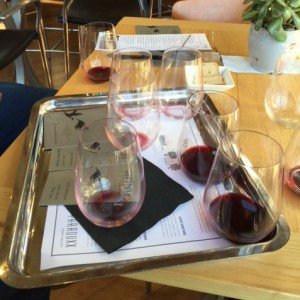 Among their other labels are Migration , Goldeneye and Decoy and their Washington State winery Canvasback . There is some thing for everyone in the Duckhorn Family of wines and all of the wines in my opinion are top drawer in every price range.
At a wonderful party in Ft. Lauderdale in September at the home of the owner's of Wine Watch we met Diego Pulenta  whose family owns the Pulenta Estate Winery in Mendoza Argentine.  Diego informed me "Duckhorn is my favorite wine. We aspire to create wines like this".  Pretty high praise considering that the House of Pulenta makes some wonderful Malbecs among other very fine wines both reds and whites with soft and lush bouquets.  Sadly they are not easily available in our part of the world so I'm on a mission to remedy that.
We went back to Yountville for lunch at Bottoga.  A little more touristy but none the less the food and services is very good and you can amble around the center where the restaurant is located and check out the grounds and the V Market Place.
Saturday, November 28, 2015: There are times when believe it or not you do need to chill out and do other things then drink wine. OK you will drink wine.. but you will do it at other places then the wineries. Downtown Napa offers many options to dine at and explore including  the Napa 9/11 Memorial.  We recommended you spend sometime discovering the many wonderful possibilities.  We wanted to make a repeat trip to Pearl for lunch but alas Pearl is no more. It closed last December. Fortunately there is no problem finding wonderful eating options and we found Napkins.  and  had a lovely brunch and a wonderful time on a perfect day just strolling leisurely around the town.
Sunday, November 29, 2015: There were three winery's we wanted to visit that had been recommended by Thaddeus but they were not available for our last day on this trip. Not wanting to just stop in at just any winery I did a bit of web last minute research and found Hendry Winery  (believe it or not we never had there wines) and that turned out to be the best wine education experience we have ever had.  We just wanted to go to Hendry for a tasting but we ended up going on a tour.  I was rather hesitant because we have done many tours and well I thought you do one you do them all. There are winery tours and then there is Hendry and this may be my favorite winery in Napa. Low key with an educational tour second to none.  If you want to learn about wine and wine making go there.
Mr. Hendry is a maker of cyclotrons. He is very smart, unassuming, charming and says bull shit a lot. He has a passion for what he does and the next time we go back to Napa I want to do the morning tour and taste with him. His microbiologist Jan is a fascinating woman that is an encyclopedia of information.  Jan conducted our tour and taste that lasted from 2:00 p.m to 5:30. An extensive immersion in vinicultural to say the least. Go meet him and Jan too. Taste the wine, chill out and dig a different side of Napa. We enjoyed our experience and the wines so much that we joined the Hendry Wine Club too.
We made reservation for Sunday prime rib dinner at the Silvarado Grill. With dinner we enjoyed a fine bottle of Hendry Cabernet. It was the perfect way to end a perfect week in this part of California wine county.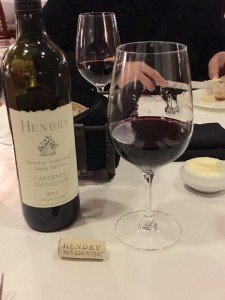 Monday, November 30, 2015: With our wine buggy packed with 6 cases of fine wines we headed back home to Reno.
Life is good. Cheers.