Why I Care About the Carson City Ward 1 Race.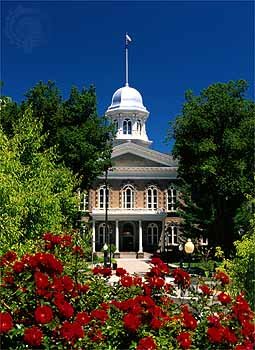 I do not live in Carson City so you might wonder why I should care about anyone running for office there.  I have and do spend a fair amount of my time in Carson.  I have had more meetings there then I care to think about, I have friends who live there and because it's an important part of the State I live in I want to be proud of what the world sees when they come to visit our State Capitol.
Not much appears to happen in Carson City when the Legislature is not in session.  They only meet every other year for about 120 days . To say I was unimpressed with Carson City when I first moved to Nevada in 1976 would be something of an understatement.
For a good many years nothing much seemed to change but gradually Carson City began to slowly morph into another mall sprawl community with a few new government buildings.  The city was expanding South along 395 and East along Technology Way.  A new Western Nevada Community College  hugged the Western Hills, new high end housing was being built, Carson Tahoe Hospital expanded into new digs and despite boarded up business along the main drag leading to the Capitol it didn't look quite so scruffy despite being really hard hit by the recession. Then suddenly one summer the grounds of the Capitol looked better cared for and there were flower baskets hanging along the Main street. The place was looking a lot more presentable. One I no longer hesitated to take out of town visitors to for some sightseeing and Nevada history. Which gets me to why I am putting forth my opinion on the Ward 1 race for Carson City Supervisor.
Much of Carson City's improved imagine can be credited to Karen Aboud, the  current Ward 1 Supervisor. Karen has been involved with efforts to upgrade her home town's imagine long before she ran for office.  A major contributing factor is the Greenhouse Project a non-profit Karen founded and spearheaded.  The baskets of flowers that brighten the streets are grown there along with vegetables that are distributed to food banks and herbs and flowers that are sold to help sustain the project.
Now I know politics is a blood sport. It can be mean and dirty and what has got me riled up about Karen's opponent is that she seeks to disparage the reputation and charitable work Karen has always been involved in along with her long standing community efforts.  Through innuendo, sly and snide comments she seeks to have her audience believe that Karen is doing all of this just for personal benefit and gain. She tosses this trash out without  a shred of evidence to back up her statements.  These are the typical tactics of a candidate that has absolutely nothing of substance to offer. Most incomprehensible is her vendetta against the Green House Project. This exemplary non-profit along with making the city more attractive is a teaching experience for children and helps provide a substantial amount of fresh food to those in need. It is held up by many in the farm to table and slow food ever expanding community as a model to be emulated and duplicated.
If the Greenhouse Project was all that Karen did, that would be plenty. But this woman is a dynamo, involved with those she serves and her community on so many levels. What concerns me is in this years election Karen has an opponent who if I understand correctly would undo all the good work that has been accomplished by this project as well as others that Karen supports.
Karen's opponent's education and work experience is extremely narrow, having earned only a high school degree and having only worked for a single State Agency NDOT. Perhaps that is part of her problem and the reason for her limited vision. We are not sure exactly what she did do over the years with NDOT, what departments she worked in or what budgets if any and on what projects she was in involved.  All of this is loosely laid out in her campaign with out any real specifics.
The major highway project between Reno and Carson has cut the commute time into town but like all such projects it also has a tendency to whisk people traveling from Reno past the heart of the community where ordinary folks who do not work for government bureaucracies strive to make a living.  Getting people off of the freeway and into the heart of a little city is challenging and requires multiple approaches to sustain a city core.  Karen's opponent's campaign is primarily based on "I'm a fiscal conservative and I'm for the middle class and want prosperity for all." as if those words would equate into creating jobs and maintaining a vibrate prosperous community.  Such thinking unfortunately does not lead to either attracting new business, job creation, sustaining existing businesses, improving the quality of life, helping the middle class or remotely creating prosperity for all.
  What is of perhaps greatest concern is she does not appear to even comprehend what skills and qualifications the office entails.
Karen's opponent is dead set against Carson City's plan to improve bike lanes and walk ability because it requires tax dollars. Pedestrian friendly streets and bike lanes are being planned and expanded in every city with vision. Why do you suppose that's a growing trend? Guess where the money for improvement project and infrastructure come from? Perhaps it comes as a shock and surprise to this person that part of city governments responsibility is to repair and improve infrastructure. Projects like this create jobs and that's just one benefit. Where people can walk or bike to places where they can shop and grab a bite to eat that benefits businesses and that also creates jobs. Plus bike lanes cut down on traffic congestion.  It's a fact that more and more people are using bikes for transportation. Bike lanes are part of good city planning. The added benefit is improved air quality and equates to a healthier environment. Many of Carson City's businesses want these improvements.  Anyone running for this office should know major project decisions are not made in a vacuum.  Citizen input is part and parcel of the decision making process and as I recall a great deal of discussion and meetings revolved around the project.
Karen's opponent says she wants to attract High-end Manufacturing and Tech Companies that pay high end wages.  Name me one community that doesn't want these kinds of jobs? You have to look at the types of communities such companies locate in. You have to be honest and ask what does my city offer? They to not want to move to a location where their employees will have to live in a shabby, rundown, tired and grubby looking community. That kind of environment is not good for employee retention and that is a major issue for big companies with a highly skilled workforce. Businesses look for cities that have nice amenities and forward thinking community planning. Plus the nicer the environment the lower the crime rate.  It's more then just about tax breaks.
Recently Carson City took a major step to improve their animal services. The Nevada Human Society will as of today October 1, take over the Shelters management. Karen's opponent would have voted against this contract had she been in power because she says NHS. doesn't have the experience to handle animal control. Once again her ignorance is showing, in this case about what NHS does and what they will be doing for the Carson Shelter.  NHS oversees and coordinates all the animal services for Reno, Washoe County and Sparks, a slightly bigger operation then the one they will over see in Carson City.  Their services have saved the taxpayers of Washoe substantial dollars. NHS also does not work in a vacuum. Other agencies and citizens are also involved in oversight.  NHS is an example of  best practices for a no-kill shelter. Carson City residents will benefit from this partnership and certainly the lives of many animals will benefit as well thanks to Karen and all those who supported it.
One only has to review Karen's vita to know what she stands for and what her priorities are and to see just how much she puts into helping others as well as what she has accomplished.  I would encourage you to compare Karen's credentials with those of her opponent. The fact that Karen  is a savvy business woman in her own right and also works with her husband Charlie in their restaurant Cafe Adele's equates to an extremely broad understanding of what it takes to get things done to really make a positive difference for the people she serves.
Karen Aboud works for everyone in Carson, not just Ward 1. Much of what she has done has also made a difference for all of us in Northern Nevada. I do not see where her opponent even holds a candle to her and haven't seen a thing that person can point to as an example of what they  accomplished to make their community a better or more vibrant place to live.  I can't vote for Karen. So I'm asking all of you who can to please do so this November 4th. Nevada needs more people in public service like her.
Thanks for listening.
Images:
Creative Commons photo 'D.C. Ballot Box on U St.' by Cameron Nordholm on Flikr