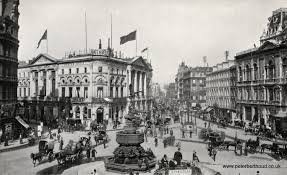 It is not know exactly when Meyer and Bertha moved to London.  What is known is that Meyer had a brother who had already moved to London. This brother was a tailor and Meyer was to go into business with him. It is not clear if both Meyer and Bertha went to London shortly after they married and if Bertha returned to Warsaw when she was pregnant with their first child or if Meyer went to London before her and she stayed in Warsaw  until after the baby was born. What is known for certain is that the oldest of the children Harry, was born in Warsaw on November 27, 1901. A second son Aaron was born in London sometime in 1902 and died before his second birthday. The third son Hyman was born March 29, 1903.
The early London years were terrible. They were poor, dreams and aspirations had failed and Meyer and his brother did not get along in business. The family was struggling. To make matters worse the young bride in less then 4 years was burdened with 3 babies. Harry had developed rickets, Aaron had taken dangerously ill and she hardly had the will to care for Hyman the new baby.
This is the story Grandma told me about that terrible time and how things changed.  Aaron was desperately ill. She had gone to the pharmacy for a  medication she hoped would help him and on the way home with the medicine for Aaron she slipped and fell and the bottle of medicine broke.  When she made it back to the house Aaron was dead. Bertha was devastated.  He was a beautiful child. He was so smart he walked at 9 months she told me and he talked before he was a year old. He had a blond birthmark in the shape of a triangle in his hair on the back of his head.  He was her joy.  She would hold up her hands and say "Which of my fingers would I give up" and cry.
In her despair after Aaron's death, she thought about taking her life.  It was at a moment of desperation when she was contemplating throwing herself into the Thames that her friend and mentor Lady Christameyer came into her life.  According to Grandma, Lady Christameyer stopped her carriage when she saw Grandma on the bridge and brought her back to her home. She listened to Grandma's sad tale and when she learned that Grandpa was a dress designer she made an appointment to have him make her several gowns.
Lady Christameyer was somehow connected to the Court. My mother told me she was a tutor to the children of King Edward. The gowns that Grandpa made for her caught the eye of Lady Christameyer's friends and soon Grandpa had a thriving Couturier business.  Of perhaps even greater importance the good Lady's influence made it possible for the Kings surgeon to operate on and straighten out Harry's legs that had become deformed because of rickets as well as help him regain his health.
A little over a year after Hyman was born Meyer and Bertha's first daughter Lucile was born April 4, 1904.  Fourteen Months later Abraham who would be known as Jack was born on August 1, 1905.
The family prospered.  Supposedly Grandpa received a royal warrant from the crown that allowed him to create a special label displaying the Crown Coat of Arms of the Lion and Unicorn.   That meant he was a trades person to the Court of Saint James and to King Edward of England.  I saw that on a label of a cape Grandpa made for my mother.
In the best times in London Grandma was known as Madam Bertha. Both she and Grandpa had added another language to their repertoire, English.  They had a lovely Town House and Grandma had help with her growing brood. Both of them had leisure time but Grandpa was really all about his art and the ladies and gents that wanted stylish clothing.
It is possible that when the family was in London they went by the surname of James, but I haven't been able to find evidence of that.
Grandma told me she loved the ponies, that is to say she liked to go to Epsom Downs and she loved betting on the races. She had a favorite cat that rode on her shoulders and wrapped itself around her like a scarf. One day she said the cat was stolen.  Grandma never stopped missing that cat.
Sometime around 1907 Lady Christameyer died and Grandma went into a deep depression.  The London fog didn't help matters.  She said she heard voices in the fog and saw Lady Christameyer's face.  The doctors told Grandpa he needed to move her out of London if she was to get well.
Grandma's oldest sister Naomi had moved to America with her husband Bernard Porwancher some years before.  They had settled in Chicago, Illinois. In 1909 Grandpa booked passage for the family on the Hesperian to go to America.  They sailed from Liverpool, England to Halifax, Nova Scotia, Canada, and then by train to Chicago.