On the Occassion of Ari's 50th Birthday. August 8, 2014
The evening of Friday, August 7th was very special. We were at our cousin's David and Collie Rice's. They lived on the edge of Old Town in a very cool apartment on the nearish North side nearish to the Lake in Chicago. I just remember it was a great evening. I just remember that I settled down to sleep about 1:30 A.M. and in the next few minutes I was on my way with your father to Saint Luke's Presbyterian.
Just about 8:00 a.m. Saturday morning August 8, 1964 you came into this world. You, who had grown beneath my heart and who were so known but unknown. You who put me out of my skin now had me dealing with a new skin. You who forced me to realize I needed to close doors and open new ones. You who made me realize I would never, ever have all the answers and would never ever get it right, and would never ever love someone as I loved you, because you were my first born and the first miracle.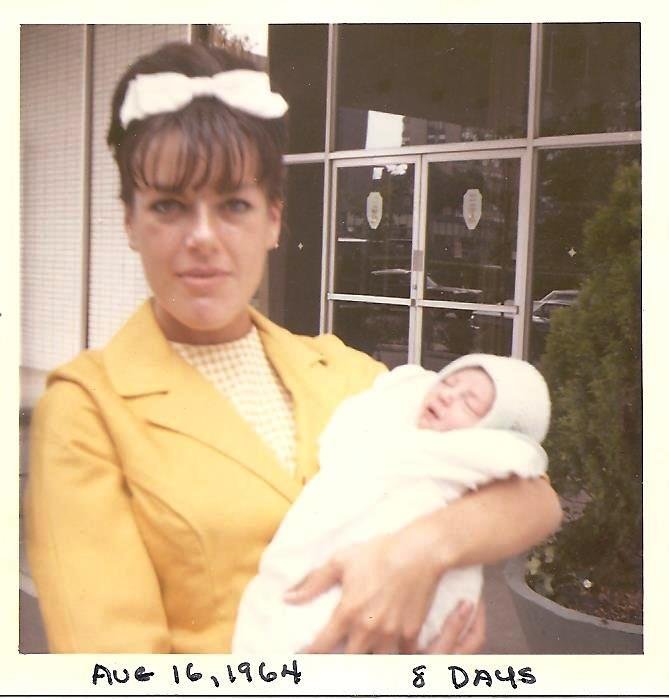 So there you were with 10 little fingers and 10 little toes.
Sleepy eyes a button nose.
And a rose bud mouth that roared like a lion.
I can tell you my darling you were pretty damn try'n.
I did not have a clue. You came with no map or operating manual. Dr. Spock was the best we had.  Like he knew anything? And of course mama knew things but then you know mama. Well maybe somethings but.. seriously..  Your first 2 months I cried a lot. I was a complete failure as a mother. I didn't understand you and you didn't understand me. Then one evening when David and Collie came over and we were playing some silly card game and I had you in a infant seat by my side and I turned to see how you were doing and you garbed my little finger and smiled and that was the end all and be all of the Universe. It was the biggest, most magical smile that ever was. I thought my heart would bust.  It is a perfect moment in time frozen in my minds eye.
You gave me some terrifying moments. The bout of pneumonia, the raisin up your nose, the nickle you swallowed that got stuck in your esophagus, the terrible bouts of asthma you suffered.
You have given me many more wonderful moments.  You are the child that when we lived on the Philadelphia Main Line in Villanova had parents ask me "Can you imagine living with that child"? They didn't know I was your mother.  You did this fantastic routine at a school assembly impersonating Jimmy Cagney and Humphrey Bogart. You strolled out on the stage like you owned the place and stole the show. It gave me great satisfaction to say to these parents "Yes I can imagine, he's my son". You are the child that put on productions. Performed a whole Christmas Play that you made up with you as Gandolph and Kevin I think was Frodo. You even did the makeup.  I am convinced you could/can be a great Producer/Director/Diplomat/Legislator/Governor/President.
You are the child who at 3 on a scorching Florida high humidity day insisted on wearing Corduroy jeans with a long sleeve turtleneck because as you ran your sweaty palms down those pants announced "I have to wear slacks cause I'm a Slacker".  OK.. What ever you say. And the kid that with his buddy John Hanan played with fire and brought the Bay Harbor Island Police and Fire Departments to our front door.  You are the boy who had to wear a hat. For awhile it was a Pith Helmet you just had to have from F.A.O. Schwatz in Bal Harbour earning you the name of Safari Ari.  You are the child that took to tennis like a duck to water. I loved to watch you play. You are the boy figuring his way though outrageously over priced boy cloths at Bambie's NY announcing he wanted arroz con pollo  for dinner and then patiencely explaining it was just chicken and rice Spanish style to the gentleman you had blown away at the shop when he ask you if you even knew what that was.  You are the boy that would not stand for being ignored by the saleswomen at Gucci's. You did get her attention and you did buy that key chain. No sales person at Gucci's ever ignored you after that.
You were the one that taught your brother Kevin good manners.  At least that's what Kevin, then 4, told a man when the man asked him where he learned such nice manners after Kevin complimented him on the watermelon he was carrying. Kevin said "Oh my brother Ari teaches me my good manners".
I never had to tell you to clean your room. You always wanted everything in good order. You held your first dinner party before you were 8 and you did all the cooking, I just helped a little with the prep.  Once when we were living at Tahoe I was very ill and had not been able to eat for several days. When I finally was able to lift my head up,  you came into my room with a perfect Grand Marnier Souffle.  I never have had one any better. You have become an accomplished chef, connoisseur of fine wines, excellent host and some of my greatest joy is cooking with you.
You have grown up to be a wonderful man. People gravitate to you.  You have always had this aura that makes people want to be around you.  Perhaps it is your style and grace or perhaps your diplomacy. Maybe it's the smile or the impeccable turn of the cuff, cut of the suit, the stories you tell, the charm you exude or your sense of humor and those terrible rude, crude yet hilarious moments you do to entertain and anyone else could never get away with. I watch you from a distance as a parent. I am blown away. You're my kid. How did I get to be so lucky?
Mostly now I watch you in your roll of father. I knew you would be the best when I was showing you how to bath your 5 day old baby girl and she peed on you and you said "Isn't that the most adorable thing you ever saw"?  The look of complete love and devotion as you beheld the miracle that was your child, wrapping her up in a towel and completely ignoring your wet shirt and pants. In that moment what I saw was the most adorable moment of you. That was something because you have given me many adorable moments.
I have so many more wonderful memories of your childhood, your growing up and things that we have shared and all of the things you have taught me. So much to laugh over and some to cry over.  You have a kind, loving and steadfast heart.  I have never seen you give up on anyone.
You/We are celebrating your 50th year and thank God just from my corner of the planet I lived to celebrate this day.
Happiest of Birthdays darling child of mine.  May you have many, mamy more. All my Love Mom
Just a few special pics